This farmhouse style coffee bar makeover is proof that paint is the number one way to make an impactful but affordable upgrade to your home decor!
Welcome back to another Monthly DIY Challenge, friends! If you're new to the challenge you can read all about it and browse previous month's projects here. This month we're teaming up with the awesome folks at The FAT Paint Company to bring you 12 fabulous furniture makeovers! I've been wanting to change things up with my coffee bar since the dining room makeover, and adding a little contrast via paint was just what the space needed.
This post contains affiliate links for your convenience. Click here to read my full disclosure policy.
Tools & Materials:
paper plate
old T-shirt or rag
Coffee Bar Makeover Instructions:
First, I sanded the console with sand paper to rough up the glossy finish. That helps to give the paint something to stick to. I wiped it down with a damp cloth to remove any dust.
Then, I applied 2 coats of FAT Paint in the color Greysful, waiting 20 minutes in between each coat. After both coats were dry, I lightly sanded the surface and wiped it down with a damp cloth to remove dust.
Next, I applied a light layer of Natural FAT Wax with a waxing brush in a circular motion. I gently wiped off any globs of wax with an old T-shirt. I made sure to wipe my brush off with a rag before moving on to the dark wax.
To apply the Patina FAT Wax, I dipped the wax brush in the wax and then swirled it around on a paper plate to distribute it evenly across the brush tip and remove any big globs. I brushed on the dark wax, working in small sections to allow enough time to buff it in before it dried. I concentrated on pushing it into any grooves in the console and left the flat, raised areas lighter.
Then, using an old T-shirt, I dipped it in the Natural FAT Wax and gently buffed it over the Patina FAT Wax. This gives you more control over how dark the dark wax is. I buffed the wax over the console until it had a nice, smooth finish without any streaks.
Last, we added a stained planked board to the top to add a little rustic-ness to the piece. I love how it turned out! Bonus points for adding little extra surface area on top!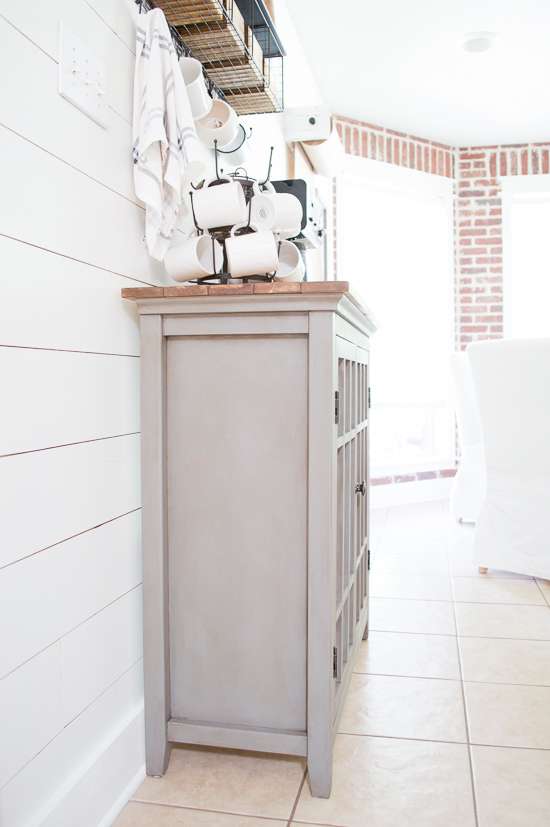 I love the contrast of the gorgeous gray against the white shiplap! Now I just need to find some pretty baskets to fill the interior.
For more furniture makeover inspiration check out the rest of the group's lovely painted pieces. Click each photo to see the amazing after reveals!
xo,
sarah