Gather inspiration for your summer decorating!
Happy summer, friends! Can you believe it's actually been summer for a whole week now? It's crazy! Of course, I had to ring in the new season by decorating. So, I teamed up with the lovely folks at Balsam Hill to share my summer porch and entryway tour along with a few fabulous other bloggers.
Welcome to our summer porch and entryway tour!
Let's start on the porch. It's always fun to decorate for each season and there's a lot you can do with the space because of its size.
I thought it would be a fun spin to place a pretty wreath on the brick above the bench. I love the soft peach roses against the pretty greenery.
We had these little wood trellises that we picked up at a yard sale for 25 cents each a few years back and I thought they'd look super cute.
My hubby made this wood carpenter's toolbox for me out of fence pickets. Super rustic and super cheap! I love how these pretty white delphiniums look just laying across the toolbox. The white pops so beautifully against the brick.
I added a couple of plaid pillows to soften up the bench and make it cozy and inviting. Just need a glass of sweet tea now.
I like to bring in as much greenery to a space as I can because it really brings the space to life. This Chinese evergreen is a great pick for the spot because it requires minimal sunlight. I love how the rattan basket adds a great dose of texture.
I popped it on top of an old milk crate for added height.
A pretty lantern with moss adds another touch of green and two more textures with the glass and metal.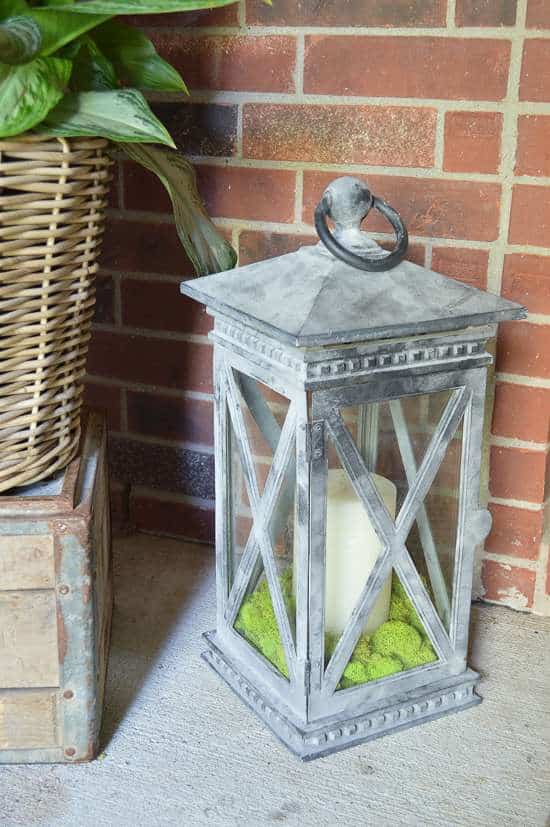 No entryway is complete without a welcome mat. I really like neutral color and alternating lines of this parquet mat.
Let's move inside, shall we.
My favorite space to decorate, hands down, is the mudroom that my husband and I built. I went for a fresh and slightly beachy feel in the mudroom.
A mix of fresh and faux flowers brought some much needed color and beauty to the space, while a neutral throw pillow and blanket added softness and texture.
These magnolia stems are so beautiful and huge in person! I can tell I'm going to have fun decorating with these for years to come. The glass vase is perfect for making an impact yet it doesn't take up too much visual space.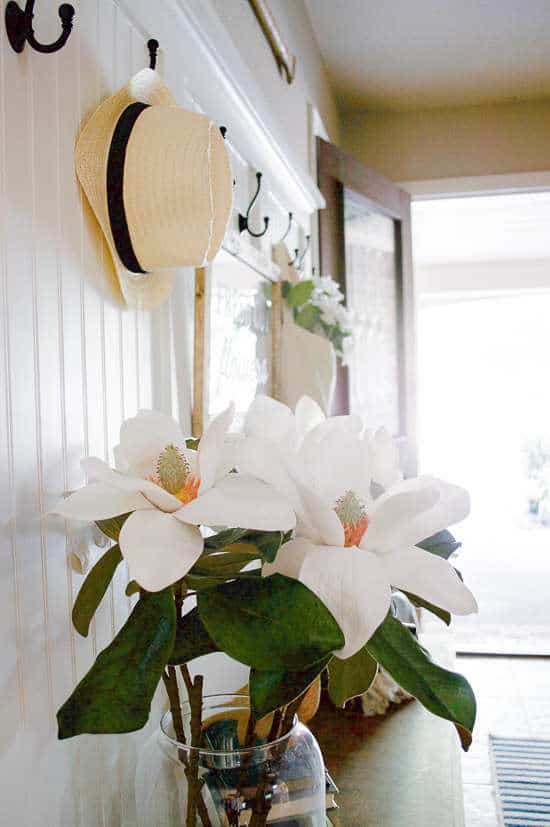 Straw hats are always fun for summer. Can you believe I got this one at the dollar store?!
I always like to add some typography to my decor and this Fresh Cut Flowers sign from my shop couldn't be a more perfect fit!
Thanks for stopping by our home, friends! For more summer entryway inspiration head over to these lovely ladies' homes below.
xo,
sarah
Monday, June 26: Finding Silver Pennies
Tuesday, June 27:The Wicker House – Dwell Beautiful
Wednesday, June 28: Not Just A Housewife – Cypress & Sienna (Little Red Brick House)
Thursday, June 29: So Much Better With Age – My Sweet Savannah
Also, don't miss the flash giveaway that Balsam Hill is having on their Facebook page on June 30th!