tutorial on how to install a butcher block counter
Last time we talked about the kitchen, I showed how we extended the cabinets all the way to the ceiling. Today, I want to share the steps we used to install a butcher block counter on our island. It was a pretty straightforward process. We bought our butcher block from IKEA, but unfortunately they don't sell it anymore. It's It's a true butcher block, real wood all the way through without any veneer.
HOW TO INSTALL A BUTCHER BLOCK COUNTER
First, we measured our cabinet in order to determine the length that the countertop needed to be. We wanted an inch of overhang on each end, so we added two inches to the length that the cabinet measured. Next, we cut one end with a table saw and then sanded the cut end so that the edges were a bit rounded like the rest of the slab.
Here's a peek at what we had left over from the cut.
Next was to attach it to the cabinet. We used two of these brackets on each side (8 total) to secure the underside of the butcher block to the inside of the cabinet frame. And that was pretty much it!
We decided to leave it unsealed and not to stain it. The sealer, Waterlox, was recommended, but we found that it left the wood with a very yellow tone and it also isn't food-safe. Since that was not the look we were going for, we decided to go the natural route and just use mineral oil to give it a bit of protection. It's food-safe and it doesn't change the color.
To clean it we just use warm soapy water.
We love how it looks! It adds the perfect amount of warmth to the space.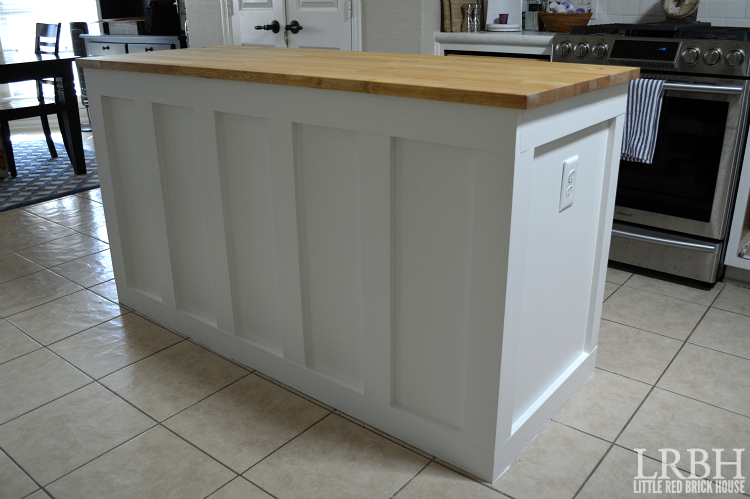 What do you think? Are you a fan of butcher block counters in the kitchen?
Stay tuned for how we made our faux marble laminate counters.
xo,
sarah