Grab some felt and string to create this super adorable and easy felt olive leaf garland!
Howdy, friend! We're kicking off another Monthly DIY Challenge today and I can't wait to share my project with you. If you're new to the MDC, it's where a group of my best blogging friends and I get together each month and try to each put our spin on a specific item or theme. This month our theme is felt! I was really stumped about what to make at first. Then, one day I was thinking about how I wanted to decorate with some garland for Christmas, and the idea to make a felt olive leaf garland popped into my head. Love when that happens!
This post contains affiliate links for your convenience. Click here to read my full disclosure policy.
Tools & Materials:
How to Make a Felt Olive Leaf Garland:
First, I cut my felt into thin strips that are about half an inch wide. I could only find this olive color in these little 12×12 inch rolls at my Michaels, but I'm sure you could find it by the yard JoAnn's.
Then, I cut the strips into fourths. All of this cutting creates a lot of fine felt dust, as you can see in the cracks of the table from the photo below. It kind of looks like moss, right? 🙂 I'm so glad I decided not to cut these while watching TV in bed.
Next, I cut each little strip into thin, olive leaf shapes.
Once all of my leaves were cut, I threaded them onto my string with a needle.
It made things go quicker if I stuck a few leaves onto the needle before pushing it all the way down onto the string, instead of stringing each leaf one by one.
After all of my leaves were strung, I trimmed each end of my string (leaving about six inches of slack on each end) and then tied a thick knot on each end. I also tied loops on each end so that I could easily hang it.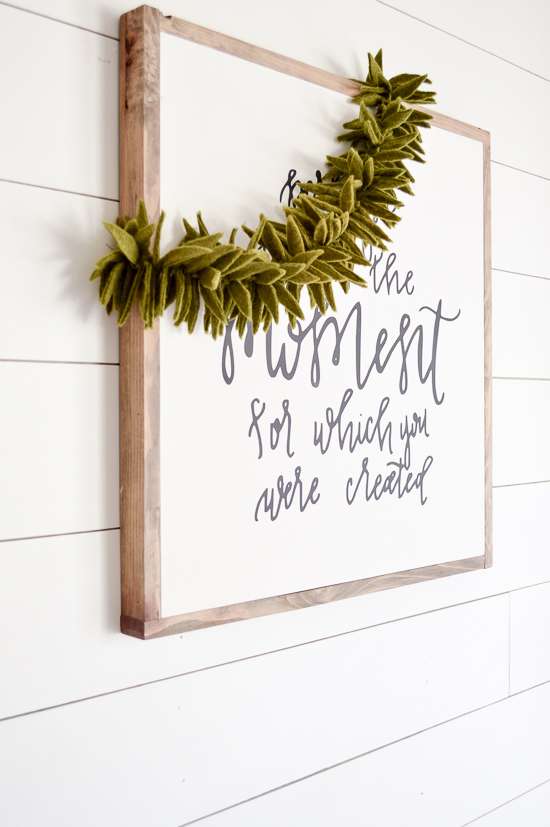 Isn't it just the most adorable thing ever?! I was hoping it would be a little longer, but I only bought three little rolls of felt. Those three square feet didn't go very far, did they? It's such an easy and inexpensive project though that it wouldn't be much effort to add some more.
As always, be sure to check out the other awesome Monthly DIY Challenge projects from my super talented friends below!
xo,
sarah