Organize the clutter with this pretty and functional chalkboard command station!
Hey there, friends! I hope you are off to a fantastic new year. It's time for another Monthly DIY Challenge! This month our theme is chalkboard. I decided to share this chalkboard command station that I created way back when I first started this old blog.
I love it so much and still use it to this day in my entryway. It's great for gathering mail that needs to be sent out, coupons for the current week's grocery store trip, and a convenient place to stash the keys. It seriously keeps our home running so much smoother not having to search the ends of the earth for the things we need most often.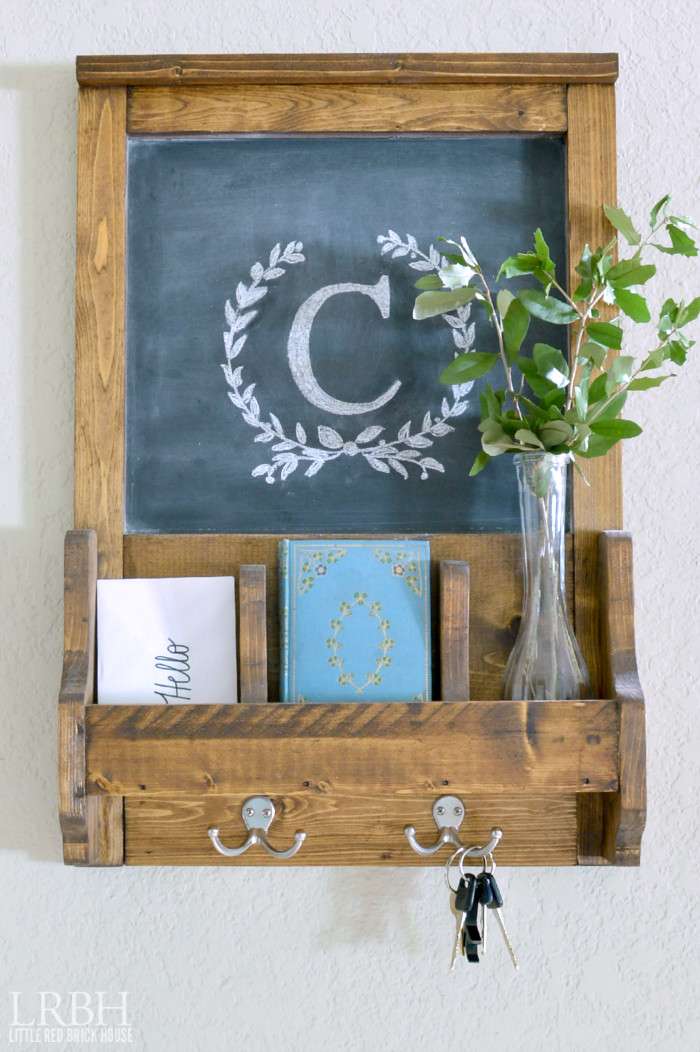 I spotted this DIY chalkboard command station from Shanty 2 Chic on Pinterest. I instantly knew that this could help keep us more organized. No more mail, keys or other bits and bobs on the counter? Sign me up!
I immediately got to work building. I was lucky to have all of the materials on hand. The wood was from multiple other DIYs and the hardboard was from our bathroom board and batten (which I haven't blogged about yet!).
Once I had the frame built it was time for some stain. I prepped the wood with some Minwax wood conditioner. This stuff is awesome at making your stain penetrate evenly. I used Minwax English Chestnut stain. It took about 3 coats to achieve the color that I wanted.
After the stain was dry I taped off the part around the chalkboard and set to work with my chalkboard paint. Two coats later and I was ready to call it complete. I let it dry and set for seven days (that's how many days the paint can tells you to wait for).
To up the awesomeness of this chalkboard command station I added some hooks to hang things like keys, scarves, the dog leash, yo-yos and toy parachute men. You know, the important stuff.
Have I mentioned how organized it keeps us? I love it. And it's fun to write little memos or change up the graphic as the mood strikes.
As always, you don't want to miss the gorgeous projects the other gals created. Click through the links below for more chalkboard inspiration.
xo,
sarah