Hey, hey, my friends! It's time for another Monthly DIY Challenge! This month our challenge item was 1×2 boards, and I decided to make an old farmhouse gate. This project was definitely one of my favorites. I love how it turned out, and I'm so excited to share it with y'all!
Materials & Tools:
HOW TO MAKE AN OLD FARMHOUSE GATE
First, I cut the 1x2s in half so that they'd each measure at 36″. I laid them out and spaced each board 1.5″ apart. I placed two boards horizontally across the vertical boards and then cut one board at a 45 degree angle on each end.
Then, I placed the two horizontal boards and the 45 degree cut board on top of the vertical boards in the shape of a 'Z'. Once all the boards were cut and spaced how I wanted, I nailed the top three boards into the bottom vertical boards
After everything was nailed together, I sanded the edges of each board so that they would be more rounded and not quite as sharp.
To create the arch, I free handed the curve at the top of the boards with a pencil and then the hubby used the jigsaw to make the cuts.
Finally, to stain the gate, I used Minwax Weathered Gray.
Isn't she a beauty?! I couldn't be happier with the outcome!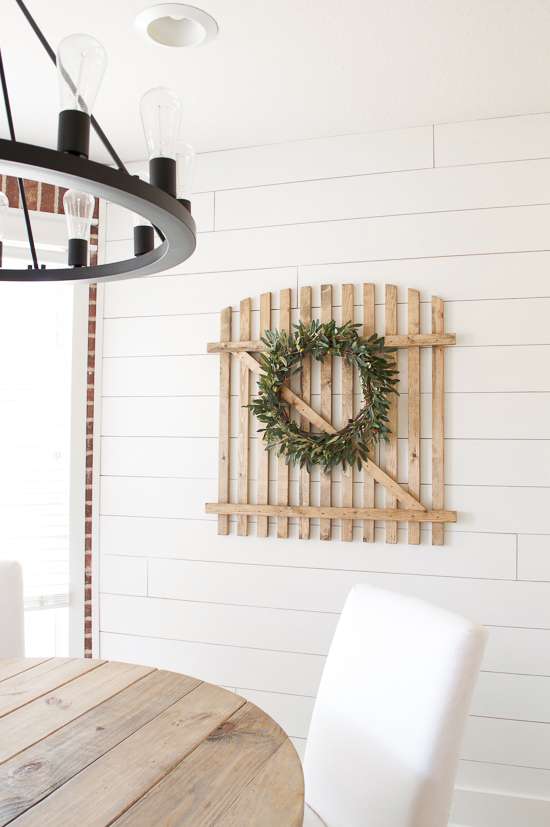 Check out the rest of the 1×2 projects below and let me know what you think of the "old" farmhouse gate.
xo,
sarah