Watch this room go from boring to beautiful in this farmhouse dining room makeover!
I did it. I actually did it! The industrial farmhouse dining room makeover is finished. On time, no less. If you would have asked me three days ago if I thought I would have been able to pull this thing off, I would have burst into tears and hid my face.
This post was sponsored. All views and opinions expressed in this post are 100% my own and no compensation was provided other than product. You can read my full disclosure policy.
There's something about thinking that I have a month and a half to finish a simple room makeover that brings out the procrastinator in me. I wait and wait and think "there's always next week". Until it is "next week" and I find myself with a room full of shiplap to paint, a table to finish building and staining and then, of course, there's the brick wall to install and grout. Lordy.
I have definitely learned a thing or two from these last two One Room Challenges. Most importantly, start working ASAP and don't let up until the bigger projects are crossed off the list.
Speaking of lists, let's take one last look at the plans I had for this space before I dish out all of the makeover goodness.
Install DIY shiplap walls and paint white (Alabaster from Sherwin-Williams)
Frame out the windows
Install brick accent wall
Oversized magnetic chalkboard
Build wood shelving unit
Install industrial chandelier
A couple of points from that list are:
There is no wood shelving unit. We built the darn thing and put it in place, and there just wasn't enough room in the space for it. Bummer. All is not lost, though. I'll find a space in this house for it.
The same chalkboard that occupied this room is still there. It's not the oversized magnetic one that I had my heart set on. We ran out of time with the other projects and this just had to be scrapped……for now.
I did not build that beautiful little coffee bar. Around week three I realized that I wouldn't have enough time to build one, and seeing how this was a crucial part of the makeover, I went ahead and purchased one. I am in love with it, though. I'm glad I swallowed my pride and just bought it because it is exactly what we needed, it fits the space perfectly, and it meets all of requirements I had for a coffee bar.
But enough talk about what didn't happen. Let's get to the main attraction. I'll try to keep the words to a minimum.
Here is the room before….
And here it is now….
We added shiplap walls and painted it my favorite white ever, Alabaster from Sherwin-Williams.
The chandelier. Oh my word. It adds the perfect touch of industrial.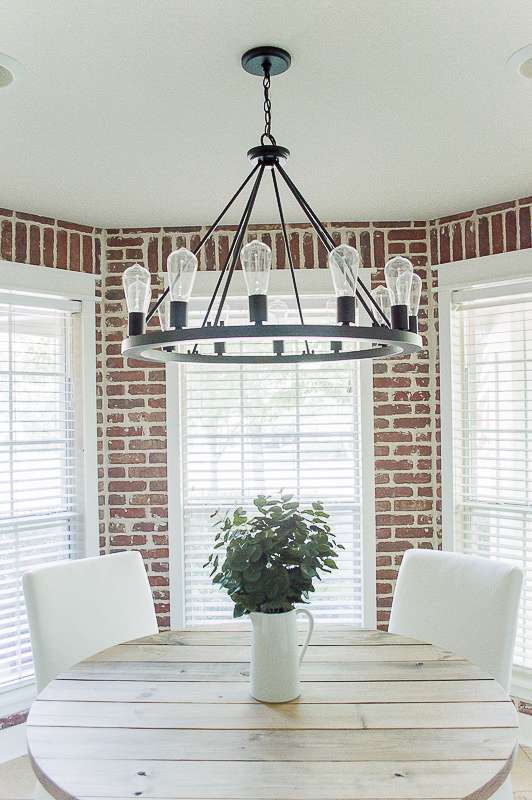 The jute rug brings in texture beautifully. Our kitties love lounging on it in the morning sunlight. I don't blame them.
My husband and I built this table ourselves, and I think it makes so much more sense with the bay window than the old rectangular table did. My hubby mixed stains together to create this gorgeous color and he completely nailed the exact look I was envisioning. I love him.
We trimmed out the windows and painted them the same white as the shiplap.
My favorite part of the space, by far, is the brick accent wall we installed. I was going to white wash it but ran out of time. I still think it looks incredible as it is. The whitewashing will have to wait another day.
It seems really silly to be so enamored with something like a coffee bar, but I am! I love that it takes some of the clutter off the kitchen counters and it is absolutely cute to boot.
It was important to me to find something tall enough so that it was comfortable for my hubby to make his coffee. We will be filling the bottom shelves with baskets full of our homeschool materials.
I love that we can store all of our coffee and hot chocolate essentials in the cubbies and the little hooks make it easy to display our favorite mugs!
This room is such an awkward space and is difficult to photograph. Here is a view of the semi whole room. LOVE!
I'm thinking the pantry doors are in need of some contrast from all the white shiplap. Maybe gray or black? We shall see!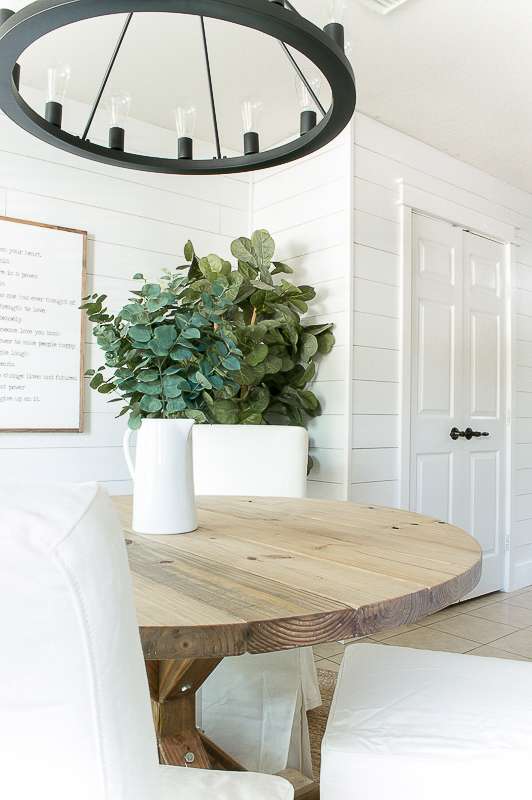 And just for fun, let's see one more comparison shot and the design board.
Dining Room Sources:
I want to give the biggest shoutout and "thank you" to the sponsors whose amazing quality products helped make this dream makeover possible. I absolutely would not hesitate to recommend them to friends, family….everyone!
PlushRugs | Sherwin-Williams | Lamps Plus
There you have it folks! It's so much more than I expected it to be. It was really amazing to watch my design board come to life right before my eyes and makes me want to try my hand at another room reveal. That will have to wait a while, though, because I am absolutely exhausted from all of the hard work we put in.
So, what do you think? Did I nail it? Are you a fan of the brick wall? I'd love to know your thoughts in the comments!
xo,
sarah
Don't miss any of the Farmhouse Dining Room Makeover posts:
Dining Room Makeover – Week One
Dining Room Makeover – Weeks 2 & 3
Dining Room Makeover – Weeks 4 & 5
Dining Room Makeover – Reveal
Shiplap Walls: The Cheap & Easy Way