It's weeks 4 and 5 of the One Room Challenge! See what updates we've made to our farmhouse dining room makeover!
It's the last update for the One Room Challenge, guys! One week left until the big farmhouse dining room makeover reveal! We're down to the wire, finishing up all of the last minute details and I may be slightly freaking out. The big projects are mostly finished but it's all of the little things that end up taking so. much. time. Let's take a peek at what we've got so far and then I'll update you with what's left to do.
These past two weeks, we finally got all of the shiplap painted. Hallelujah! I know I said I'd wait until the end to reveal if I ended up painting it or not, but it's just so dang beautiful that I had to show you. Plus, the whole room is shiplap so it's hard to show progress pics without seeing the walls, but whatever.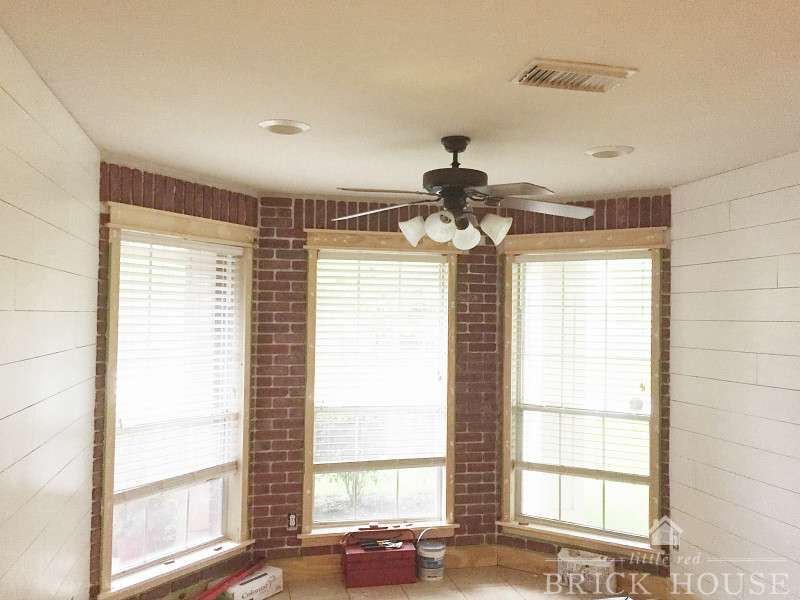 Oh, and please excuse the not so great iphone pictures. My hands were covered in either paint or mastic during these pics and I couldn't stomach the thought of getting any of that on my good camera.
Hello, brick wall! I am so in love with this thing already. I think it looks amazing right now and can't even imagine how glorious it will be once it's grouted. Here's a shot of it in progress. SO much brick cutting. It was time consuming but oddly therapeutic.
The window casings still need to be painted as well as the baseboards. In fact, the baseboards are still missing the base shoe trim and need to be caulked before paint. See what I mean about the tiny details?
We did manage to get the table built. Whoa momma. It's not even fully assembled but is already a showstopper. I can't wait to sit down for our first meal.
Here's the base. Don't mind the cat scratcher thingymajig.
And here's the top. Those are pocket holes where we joined each board together. That will go on the underside, so you won't even see 'em. Now we just need to join the base and the top!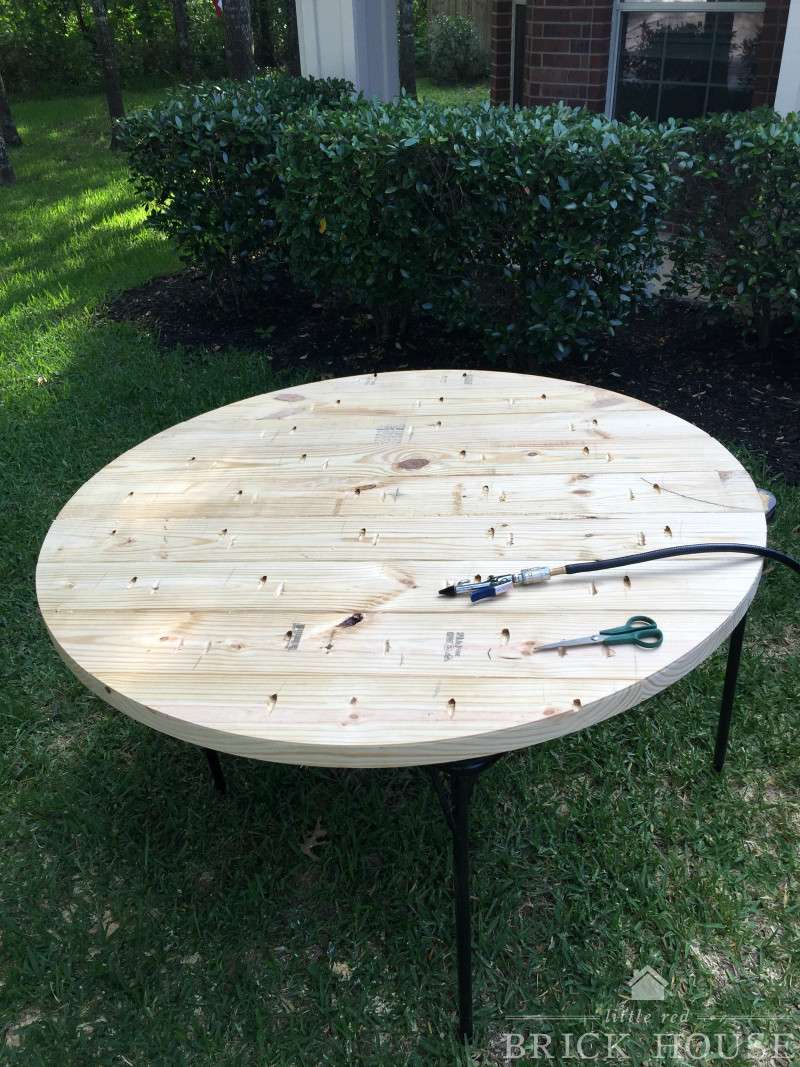 Here's a quick look at what we've completed so far and what's left to do:
Install DIY shiplap walls and paint white (Alabaster from Sherwin-Williams)
Frame out the windows still need to paint
Install brick accent wall still need to grout and whitewash
Oversized magnetic chalkboard
Build wood shelving unit
Install industrial chandelier
Yikes! It still seems like so much is left to do. The clock is ticking, so I better go grab my paintbrush and get to work. I'm so excited to wrap this project up and share the reveal with you in just a few more days!
I'm so thrilled and honored to be partnering with these amazing brands to bring my vision to life. They make these projects possible and I am always committed to sharing with you the brands and products that I use and love. All views and opinions expressed in this post are 100% my own and no compensation was provided other than product.
PlushRugs | Sherwin-Williams | Lamps Plus
Y'all come back next week for the final reveal! It's going to be a good one!
xo,
sarah
Don't miss any of the Farmhouse Dining Room Makeover posts:
Dining Room Makeover – Week One
Dining Room Makeover – Weeks 2 & 3
Dining Room Makeover – Weeks 4 & 5
Dining Room Makeover – Reveal
Shiplap Walls: The Cheap & Easy Way